Grand Cayman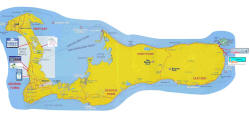 Ohhh Grand Cayman, the beautiful Caribbean atoll surrounded by crystal clear water and powdery white beaches......
I guess we could start by giving a full history of the Islands,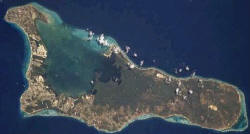 by describing how and why Grand Cayman has over 600 banks and scores of financial institutions, tax exempt companies, captive insurance conglomerates, that Columbus first sighted our Island in 1503, (I wonder why he never stopped and relaxed on the beach a while......I surely would have!) but you can find that information on a gazillion websites. I rather explain why tourism is still our biggest economic factor and visitors just keep coming back year after year. Like many timeshare owners, you just might be on your way to meeting your home away from home on your next visit here.
The people of the Cayman Islands, now 40,000+, are amongst the friendliest found. The lack of prejudice towards race or color makes up a society were all are equal. Many visitors comment "We went to a restaurant and were seated by a Canadian, an Australian took our order, an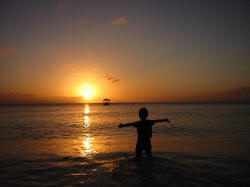 American served us dinner and a Caymanian brought us the bill..." Cultural diversity has helped the Island reach a comfort level to all who visit incomparable to other locations found in the world. There are small instances, hardly noticed to all of who have lived here for a long time, that make life here enviable to most visitors. The other day, a friend was driving his family to the airport when his car broke down. Within minutes a car stopped (my friend lifted his car's "hood", the Cayman sign of road distress) to see if they were ok. Not only did the person who stopped take everyone to the airport, he even brought my friend back to his car and gave him a tow to the mechanic. That story sounds normal and boring if told to a Caymanian, outlandish if told in other parts of the world.......
Crime is almost nonexistent here, we enjoy one of the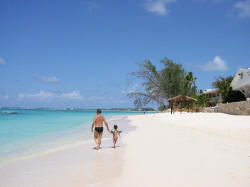 lowest crime rates in the world. Perhaps it's a product of extremely low unemployment rates or it's Christian heritage, ether way the low crime is what makes Grand Cayman (not to forget it's sister Isles Cayman Brac and Little Cayman) a favorite family vacation spot. Here you will find no solicitation, rude/pushy street vendors, beggars or people loitering. Well, many of us do loiter on the beach quite a bit, but that's another story....
With unparalleled state of the art telecommunications systems, world class medical services and education, road systems, quality and quantity of products, one can't help but feels as if we live in the "real world". Just a trip to one of the many Super Markets will give you an idea of what I'm talking about. There you can find fully stocked shelves with all of the products found in North America as well as European, Central/South American and Asia. Water is potable Island wide and "electric blackouts" are so few that they have became an enjoyable novelty. If you are lucky enough to experience one, make sure to step outside and look at the stars or go to the bar, they usually serve free drinks because the cash registers don't work....
The beaches should have been first on my list of importance but what good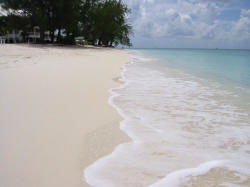 are beautiful tropical beaches if one can't walk on one at night to look at stars? The powdery white sand combined with the every shade of blue and green imaginable of the crystal clear water makes the beach irresistible. Without the ever-present beach vendors found elsewhere, our visitors (and don't forget the locals!) can relax for hours and soak in the rays in peace. Walking the beach at night is one of my favorite pastimes, the stars, sound of the waves and overall tranquility makes life magical. The other day, early in the morning, I was walking my dog on the beach. When not far from my house there was a couple sleeping on a blanket. A couple of drinks still sat next to them from the night before, as well as her purse and other artifacts. That surely made me appreciate where I live, where else in the world can you sit on a beach at night and simply fall asleep for the night? You should have seen his face when my dog woke him up by licking his face, but that's another story..........
The Caymans have long being considered one of the top dive/snorkel destinations in the world. That being said, most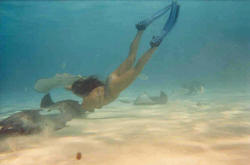 people don't realize the full reason behind the number 3 rating in the world awarded by many, if not all, dive magazines. It could be the clarity of the water, (100ft visibility is considered just an o.k. dive here by locals, we are more used to 200ft viz) the sheer drop of the Cayman Wall, an indescribable feeling as you look over a ledge that is deeper than the Grand Canyon or the abundant sea life. Well, all those things are somewhat expected by most divers since they have read all the reviews by the "magazine experts". What people mostly miss or should I say "take for granted" is the proximity to dive sites found Island wide. It only takes minutes to reach the Cayman wall from any part of the Island by boat or even by fin power. Shallow dives and snorkeling sites are just as accessible as well. Yes, shore diving and snorkeling are two of the best gifts nature could have given us, as locals usually just "jump in and swim out" top our favorite dive/snorkel spots. The professionalism and friendliness of all dive operators, the safety factors such us hardly any currents, big waves or cold water temperature make Grand Cayman a pleasure to explore by all ages. Diving in 86F° water will spoil you for life!
There are currently 300+ restaurants in the Cayman Islands. You will be able to find multi-national cuisine as well as local delicacies such as Conch, Lobster and Turtle. So, if you will be visiting for just one week you will have to pick wisely from the multitude of choices offered here.