The New Grand Caymanian Resort is truly a beautiful property. Secluded yet close to all the shopping and restaurants, it offers the perfect balance between creature comforts and "the Island time forgot". A huge private beach with overhanging palm trees will take you far away from the fast paced environment you've come to escape. Check out our photos in Condo Units.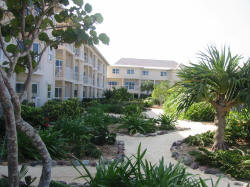 If Golf is your passion, Grand Caymanian is by far the best vacation choice. The resort is located next to the Links Championship Golf Course at Safe Heaven, where you receive special prices as a guest. The Links is regarded as the top Golf Course in the Caribbean 5 years in a row! Bring your golf clubs, bathing suite and suntan lotion for the ultimate vacation. The 5 Star Facility is located on the North Sound of Grand Cayman with a beautiful view of Rum Point and the lagoon.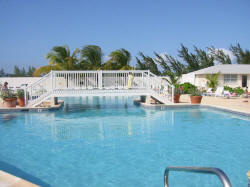 Placed on it's own powdery white sandy beach, a beautiful ocean view pool and plenty of privacy, the Grand Caymanian is a true world of it's own. The 54 two bedroom villas are tastefully decorated and offer what is known as "lock-off" capabilities, where the guest bedroom can be used independently of the rest of the villa. Owners can own one week and trade the villa as two weeks, one week in a one bedroom and one week in a studio.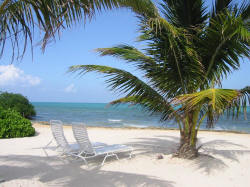 Grand Caymanian has plenty of on site amenities. Tennis courts, pool, beach, restaurant, bar, dive shop, stingray city trips from your own dock, gift shop, fishing trips, beach volleyball, concierge service, kids activities, and more...The Resort is affiliated with Interval International and is exclusively timeshare. Please click on Floor Plans for more information.