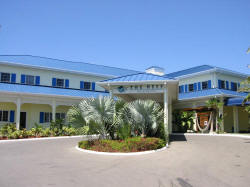 Here is another Cayman Islands gem. The Reef is situated right on the beach for all of you sun lovers. This true 5 star facility will astound you with the quality as well as services. The resort is in East End, blessed with deserted beaches, excellent snorkeling and diving. Protected by a coral reef and on shore winds, Royal Reef Resort makes kayaking other types of water sports a breeze.

The beach to the left and right of the resort is pristine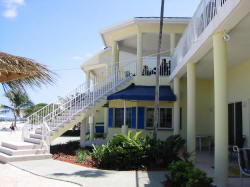 , unspoiled and goes on for miles each way. There you are always able to find shells, sand dollars, and other perfect souvenirs to take home and treasure. Being right next to both Morritt's properties you can enjoy a multitude of entertainment and events without ever leaving the resort. We found the concierge service and overall staff both friendly and helpful in every way. The restaurant is excellent and offers live entertainment.
The 30 Two Bedroom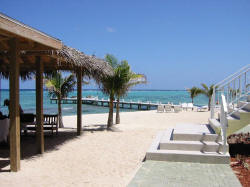 Villas are tastefully decorated and offer what is known as "lock-off" capabilities, where the guest bedroom can be used independently of the rest of the villa. Owners can own one week and trade the villa as two weeks, one week in a one bedroom and one week in a studio. Check out our pictures in Condo Units. The studio part of the Villa is by far the best studio layout on the Island and can be accessed by it's own door whether it will be used by itself or as a two bedroom. The resort proximity to beautiful Rum Point, Botanical Gardens, Mastic Trail, East End Trade and excellent diving makes your vacation complete.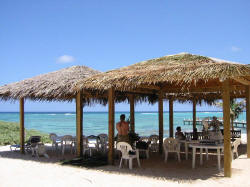 The Reef has great onsite amenities consisting of Restaurant, Bar, Beach Bar, Ocean Front Pool, Beauty Spa, Dive shop, Tennis Court and Water Sport facility. The resorts dive shop is by far one of the best on the Island receiving once again "best dive shop in the world status" by Rodale's Scuba Diving Magazine. Pack you snorkel/dive gear because you are in for a great experience.